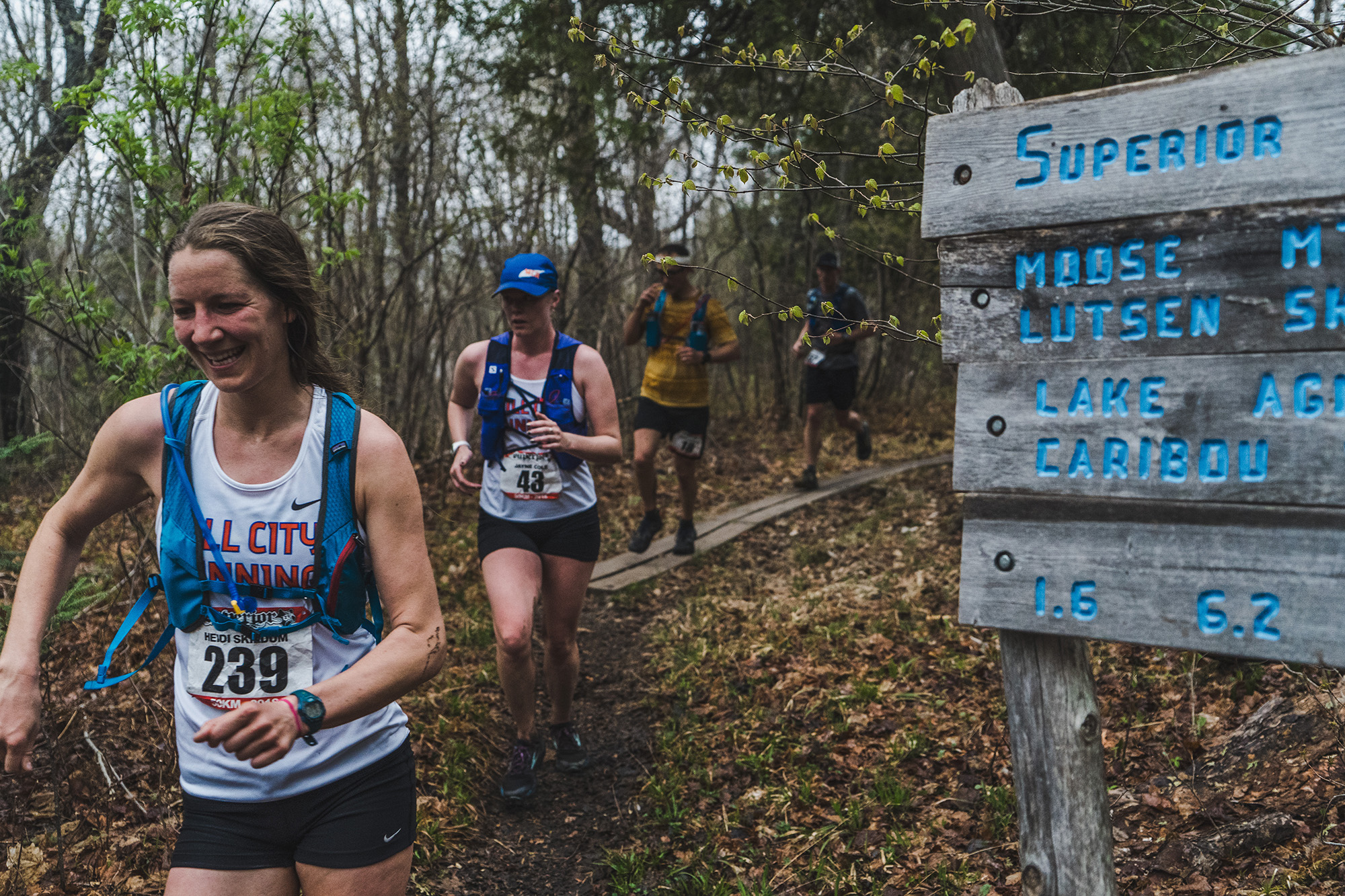 Welcome to the seventeenth running of the Superior Spring Trail Race. The Spring race was started in 2003 by my fellow Minnesota Dog Pack Ultrarunning Club member Rick Lindquist and his wife Linda. Rick and his family are in our thoughts and prayers as he mourns the recent loss of Linda – Rick is one of the manliest men you will ever meet, he is also a sweetheart and we love him, he is a brother. After their tenure Rick and Linda turned the race(s) over to my fellow Hastings'ite Gretchen Perbix (formerly Haas) and her husband Mike Perbix – these two are awesome humans and they were great directors. My wife Cheri and I have a long history with the Superior Races (both Spring and Fall) and have been directing the Spring races since 2012 – we are grateful for the opportunity to serve.
The Why. The Wolf.
What primal itch is it that we are trying to scratch when we sign up to "race"? Is it to compete against our fellow woman, our fellow man? To see who comes out on top and to the sole victor goes the spoils? Surely the vast majority of us that sign up to "race" know that we are not going to "win", that we are not going to vanquish all of the other competitors. We are reasonable people, we know this. So why? Self-actualization, yes. Personal accomplishment, sure. A unique experience, I guess. Bucket list, whatever. All valid reasons, but I would argue that like the wolves that quietly move about the North Shore, we simply just want to connect with the land, bond with our pack and be what we were meant to be.
The wolf advocacy and education non-profit "Living With Wolves" beautifully describes the bond between wolves like this… (and when it says wolves, you substitute "runners" in your mind":
"Living in a pack not only facilitates the raising and feeding of pups, coordinated and collaborative hunting, and the defense of territory, it also allows for the formation of many unique emotional bonds between pack members, the foundation for cooperative living.
Wolves care for each other as individuals. They form friendships and nurture their own sick and injured. Pack structure enables communication, the education of the young and the transfer of knowledge across generations. Wolves and other highly social animals have and pass on what can be best described as culture. A family group can persevere for several generations, even decades, carrying knowledge and information through the years, from generation to generation.
Wolves play together into old age, they raise their young as a group, and they care for injured companions. When they lose a pack mate, there is evidence that they suffer and mourn that loss. When we look at wolves, we are looking at tribes—extended families, each with its own homeland, history, knowledge, and indeed, culture."
Every single trait described, I have seen modeled on the trail, in our community and among our runners. Soon we gather again, on the North Shore of the greatest fresh water lake in the world, in enchanted boreal forests – to run, to play, to hunt and to bond as a pack. To be what we were meant to be.
2019 Superior Spring Trail Race:
Registered Total 980, Men 489 50%, Women 491 50%, States 21, Canadian Provinces 4, Youngest 8 Chase Karas (12.5K), Oldest 77 Burgess Eberhardt (12.5K), Average Age 41
After what was a wonderful and incredibly snowy Winter (yes, we do love and embrace Winter around here), the North Shore was melting, draining and drying exceedingly well. The trails were in relative great shape for late April. But then, on trend for 2019 the North Shore saw a foot of snow on April 29 with another 6 to 10 inches (depending where you were on the shore) on May 9. Wolves don't dwell on the weather, so I won't either but come prepared for wet and for mud – an no, periodically changing socks will not, I repeat, will not help you.
About that wet and mud. Superior Trail Race / Rocksteady Running faithful runners, volunteers and team members contribute 100's of hours to the Spring trail clearing efforts with the Superior Hiking Trail Association each Spring, 100's of downed trees have been removed from all 300 miles of the Superior Hiking Trail and we are still working on it. We have plans to contribute 100's of more hours throughout this trail season to improve the trails in a myriad of ways. We have been working diligently at this mission for many years. While we know that on a wet year our feet certainly have some impact on race day, our overall long-term impact on the trail in the form of volunteerism and philanthropy dwarfs any race day mud that we may churn – so joyfully, have at it BUT, do not go off trail, do not widen the trail – run right though it and take it like a woman. After each race we petition you to donate to the trail and each year you rise to the occasion – this year will be no different. Think about it when you are out there running, what is this worth to you? What does this mean to you? And at risk of being too forward (and if you know me, I have no problem with that) get ready to write a check to the Superior Hiking Trail Assoction.
Other fodder…
When tallying up all of the runners from all race distances this year it is a near 50/50 split, men to women. I love this.
This is year 2 of the 12.5K course which was met by rave reviews in 2018 – I asked the question last year if the 12.5K is in fact the Crown Jewel of the Superior Spring Trail Races, many have agreed. https://www.superiorspringtrailrace.com/superior-spring-trail-race-12-5km-the-crown-jewel-of-the-superior-spring-trail-races/ – it sure is a fun distance to race! Some of my earliest backpacking trips circa 1995 included this section of trail. Cheri and my first ever backpacking trip as a couple over 15 years ago was on that section as well.
155 of our friends and kindred spirits, that we call "volunteers" in the paperwork and on the website will be there to cast the spell and create the magic that is event weekend. If you have never been, you are about to experience something – if you have been before, then welcome back.
And after all of this talk of bonding, and pack and experience we will discuss the competitive side of the races – but these ideas are not mutually exclusive, for the alphas and the elders as we outline below are an important part of the pack. Enjoy.
The 50K Race:
Registered 258, Men 184 71%, Women 74 29%, States 18, Canadian Provinces 3, Youngest 24 Nicole Nipper, Keenan Pearson, Oldest 70 Kathy Weix, Harry Sloan, Mark Stodghill, Jack Ver Steegh Average Age 41, Runners with one or more finishes at the Superior 50K 128, First time (or no previous finish) 130
50KM course record holder and 2018 champion Ben Cogger of Duluth Minnesota is registered but sent a note saying that he will not be starting – hey, no shame in that, none of us are professional athletes; we have jobs, families, other commitments, injuries, distractions you name it. We are sure that Ben will be back in 2020 looking for his 6th Superior 50K finish and perhaps another win and course record. I usually do not go on about runners who are not starting but Ben's 2018 season is worth a little bit of a recap here. Ben owns the 1st, 2nd, 7th, 8th and 27th fastest times ever run on the Superior 50K course. His course record is likely safe this year as it sits at an astonishing 3:42:09, but, you never know. Also deserving a a ton of recognition and to further illustrate the fitness it took to set that time on the Superior course – after Superior last year, Ben went on to break Scott Jurek's 20 year old Voyageur 50 Mile course record in July – many great runners have tried, Ben is the one that got it done http://www.voyageur50.com/race-results/Voyageur%2050%20Mile%20-%20Top%2025%20Times%20-%20Male.pdf. Digressing and moving on… Corree Woltering placed 4th at last Fall's Superior 100 and we are stoked to be hosting him at the Spring Race now too. Matthew Eidenschink has not run a ton of trail / ultras (that happens when you are focused on medical school) but when he has, it has been good, really good – he was 4th at Voyageur last year and that field was utterly stacked. Dimitri Drekonja (going for his 8th finish) has a good shot at the Masters title – and when he is done, he quickly transitions into a volunteer MD – my god, have I bragged yet about how great our people are!
2017 Superior 100 winner Gretchen Metsa is in the 50K. Last years 50K runner up Laura Albares is back while last year's winner Michelle Pratt will be absent – so it is safe to say there will be some ambitions for the podium. Always an honor to have the legendary Ann Heaslett signed up to run one your races, at 55 she is still winning trail races. Like Ben, Ann shot us a note and said running this one is out, but is coming to volunteer at Sawbill. Yep, more true school trail people – that is what we have in these parts. If you recognize Ann out there, be sure to say hi!
Maria Barton is the undisputed King of the Superior Spring Trail Races with the most finishes at any single Superior(S) distance, with 11 Superior 50K finishes. This year she goes for and even dozen. Maria is one of those we mentioned working to make the trails better, on a sawyer crew just a couple of weeks ago clearing trails for not just the race, but for all Superior Hiking Trail users. Boom. Also in the numbers game, Rick Bothwell, Steve Hagedorn, Zach Pierce (of Rocksteady Running photography fame) and Michael Scandrett are all going for their milestone 10th Superior 50K finish. I am stoked for these guys.
To date, the oldest ever finisher of the 50K race was 69. This year we have four 70 year olds running! Kathy Weix, Harry Sloan, Mark Stodghill, Jack Ver Steegh – talk about transferring knowledge across generations – Kathy Weix was an early friend I made in the ultra community, opening her home to me and providing a place to stay before my running(s) of the storied Edmund Fitzgerald 100KM Road Race back in the early-mid-2000's. Harry Sloan is the founder and former race director of the Superior 100 Mile Trail Race. Mark Stodghill, one of a very select group of people in the entire world to be well in excess of 400 marathon and ultra finishes. Stand in awe of these pack elders my friends.
The 25K Race:
Registered 398, Men 201 51%, Women 197 49%, States 10, Canadian Provinces 2, Youngest 13 Caden Howard, Graeme Pearson, Oldest 72 Leonard Alcamo, Average Age 41, Runners with one or more finishes at the Superior 25K 197, First time (or no previous finish) 201
We have had a lot of stacked fields in the past, but the men's 25K might be one of the most stacked ever. Ferguson, Davis, Hegge, Keiser, Sorenson… damn. James Sorenson won the 25K in 2009. Wynn Davis won the 25K in 2010. Sorenson won the Superior Fall Trail Race 50 Miler in 2012. Davis has won the Superior (Spring) 12.5K, 25K and 50K and has also won the Superior (Fall) 100M and 26.2M making the Superior 50 Mile the only of the Superior Trail Races that he has never won. Davis is the Superior alpha wolf. Jake Hegge has won the Superior 26.2 and the Superior 100 Mile (holding the Superior 100 course record for several years and still owning the 2nd fastest time on the modern day course). Hegge was 2nd to Davis at last years Superior 12.5K. Fergeuson, the story there, accomplished OCR racer who is fast as hell on the trails… he has the two fastest ever times at the Zumbro 17 mile race and accolades and accomplishments to spare. And after all that… to mention the man with the most pure talent last? Kurt Keiser, a sub 2:20 man in his day, will surely compete for top master and if (and when some) younger legs falter, he will gladly pick up those spots as well.
For the women, the battle for the top of the podium appears to be between two very experienced Superior 25K runners. Kaeylen Williams has 1st, 2nd and 5th place finishes at Superior 25K while Anna Lahti is impressively going for her 7th Superior 25K finish with three 2nd place finishes and three 4th place finishes. That said, the 25K is a place for unnamed names to emerge and we are excited to see how the race unfolds and who might emerge.
Loren Albin is going for his 11th Superior 25K finish while his wife Pam is going for her 10th. Also going for their 10th Superior 25K finishes are Todd Howard and Steve Geronime. Deca. Awesome.
The 12.5K Race:
Registered 324, Men 104 32%, Women 220 68%, States 7, Canadian Provinces 2, Youngest 8 Chase Karas, Oldest 77 Burgess Eberhardt, Average Age 40, Runners with one or more finishes 45 at the Superior 12.5K, First time (or no previous finish) 279
The stats of the 12.5K likely speak to where the sport is headed. A brief summary… "Women"!
The inaugural women's champion Bayli Christorf (was Maliszewski) is back to defend her title from 2018. Winning an inaugural race means you are undefeated and own the course record. It was not easy last year for Bayli though, as 2nd place runner Courtney Schwind finished only 3 seconds back. Courtney is not running this year, but the third place finisher who was only 4 seconds behind Bayli is running – 11 year old phenom, Hadley Knight. Hadley has grown up running and volunteering with us and she is a wonderful young lady – we love that kid. Might we see a pre-teen take the women's title in 2019? Maybe yes, maybe no, but either way Hadley will be on the trail doing the thing that she loves. There are other talented women in the field so everyone will have their work cutout, Barbra Swenson has many 1st, 2nd and 3rd's and like the 25K, a new race, a shorter distance is just the place for someone to step out of the shadows and make their mark.
Last year's third place finisher (and mind you, he was 3rd behind two Superior Legends, Davis and Hegge mentioned previously) Max Hollmann returns. What will be interesting is to see what veteran / master's runner (46) Adam Schwartz-Lowe is prepared to do on this shorter course – he might just rip one, 7.75 miles not even the longest segment in the Superior 100 Mile Trail Race. Adam has seven Superior 100 Mile finishes including a 1st, two 2nd's, two 3rd's and a 6th place finish and has had success at other Sub-100 Superior races. Who else? Drop me a line or we will let the results speak for themselves on race day.
The oldest runner in the entire race Burgess Eberhardt of International Falls MN is running the 12.5K. He finished it last year in 145th place (of 228 finishers). Burgess has more Birkie finishes than some of you have had birthdays – he runs with a smile and brimming with gratitude, we are lucky to have him with us.
In Closing:
I have carried on enough, no more proclamations – you're welcome. It is Superior, it is time to bond with your pack.