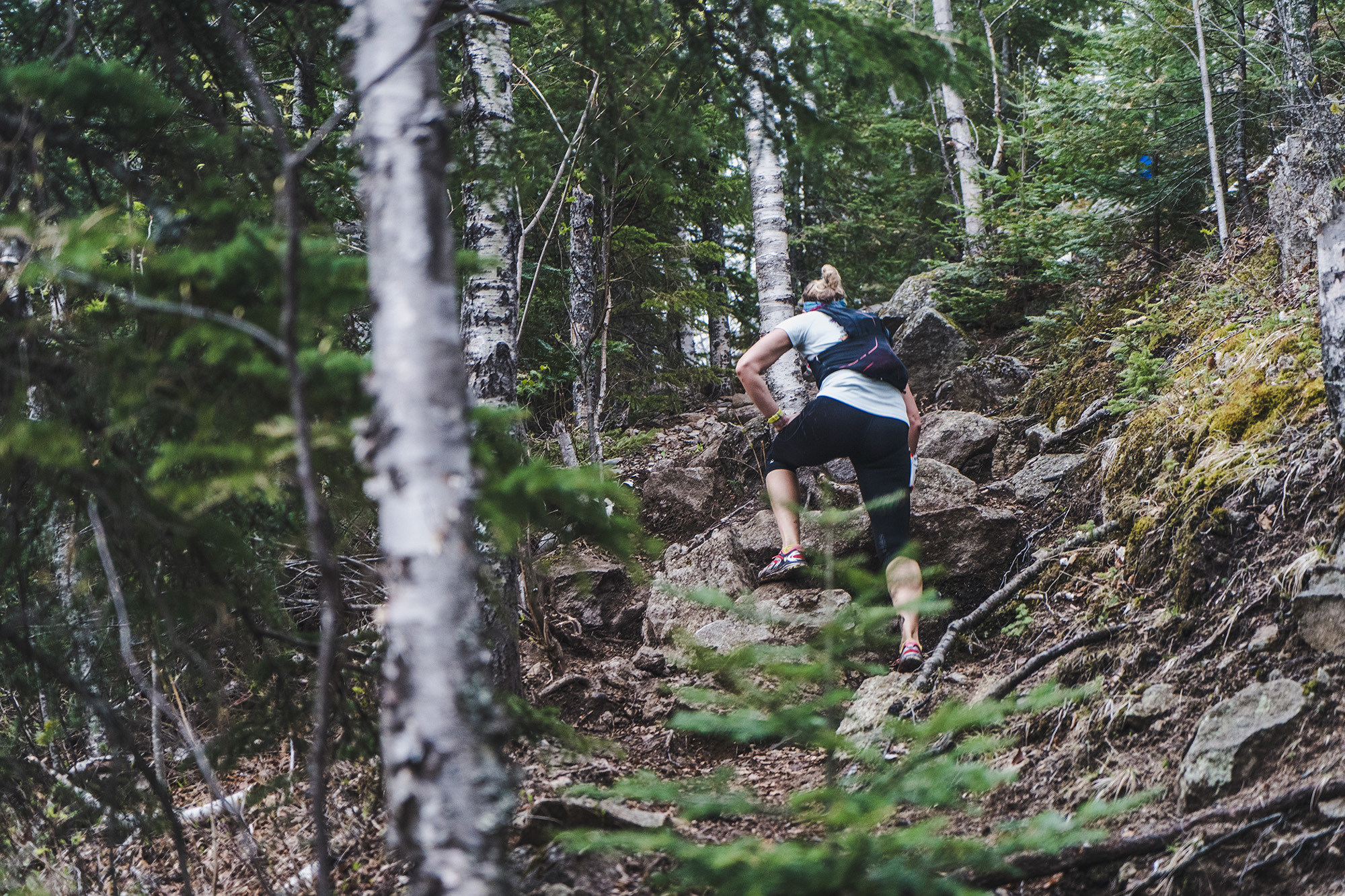 Race Description:
The Superior 12.5KM, 25KM and 50KM Trail Races are extremely hilly, rugged and technical trail-races which traverses the Sawtooth Mountain Range on the Superior Hiking Trail in the far reaches of northern Minnesota. The 25KM and 50KM races are run out and back, starting and finishing at Caribou Highlands Lodge in Lutsen Minnesota and the 12.5K is point to point, finishing at Caribou Highlands Lodge.  The race is approximately 4 hours North of Minneapolis. The course parallels Lake Superior, the greatest freshwater lake in the world, climbs to near 2000′ peaks with breath-taking vistas of the lake and inland forests and crosses whitewater rivers and serene streams while meandering through mystic Boreal forests. The races start and finish at Caribou Highlands Resort in Lutsen Minnesota. Due to their popularity, registration for the races are held via a lottery registration process which open on January 1st each year. More information can be found HERE https://www.superiorspringtrailrace.com/registration-info/
History:
The Superior Spring Trail Race was founded in 2003 as a companion event to the longer running Superior 100 Mile Trail Race / Superior Fall Trail Race which was founded in 1991 and is the 9th oldest 100 mile race in the country.
About the Area:
The North Shore of Lake Superior runs from Duluth, Minnesota at the Southwestern end of the lake, to Thunder Bay and Nipigon, Ontario, Canada, in the North to Sault Ste. Marie, Ontario, in the east. The shore is characterized by alternating rocky cliffs and cobblestone beaches, with rolling hills and ridges covered in boreal forest inland from the lake, through which scenic rivers and waterfalls descend as they flow to Lake Superior. The shoreline between the city of Duluth to the international border at Grand Portage as the North Shore. Lake Superior is considered the largest freshwater lake in the world by surface area. It is the world's third-largest freshwater lake by volume and the largest by volume in North America. The Superior Hiking Trail, also known as the SHT, is a 310+ mile long distance hiking single-track hiking trail in Northeastern Minnesota that follows the ridgeline overlooking Lake Superior for most of its length. The trail travels through forests of birch, aspen, pine, fir, and cedar. Hikers and runners enjoy views of boreal forests, the Sawtooth Mountains, babbling brooks, rushing waterfalls, and abundant wildlife. The lowest point on the trail is 602 feet above sea level and the highest point is 1,829 feet above sea level.