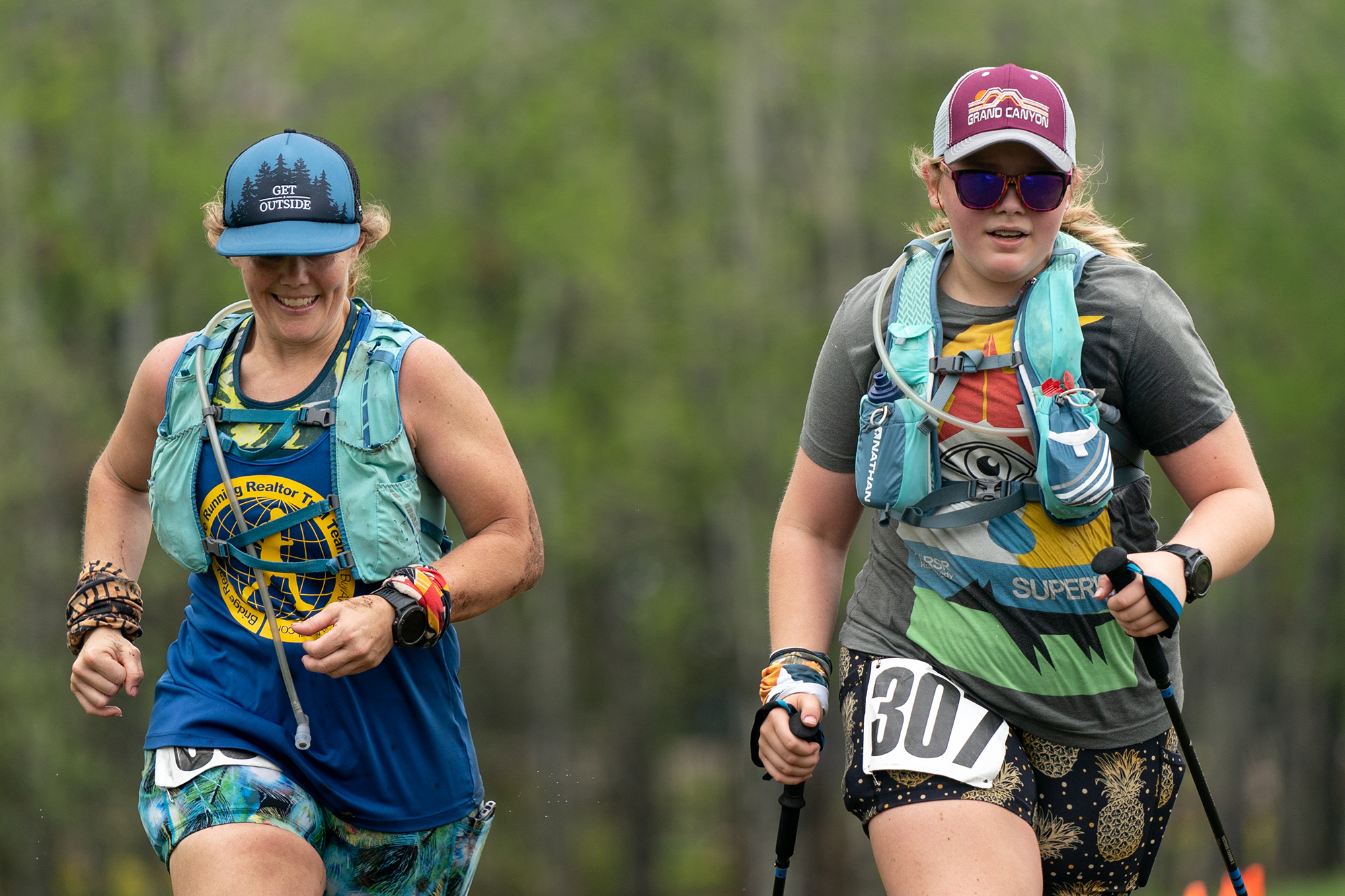 Steph Hoff finishing the 50K and Ava Hoff finishing the 25K, together – Photo Credit Amy Broadmoore
Wow, what a SUPERIOR!
First and foremost, I have to thank our volunteers. They did not just give a few hours of their time, but instead they each gave two or four full days. Their ongoing dedication to our event is humbling to say the least. If you would like to read my thank you note to our volunteers, you can find it HERE https://www.superiorspringtrailrace.com/2021-volunteer-thank-you/ – it is worth taking the time to read. Secondly, I want to extend the same robust 'thank you', to you, our runners. Thank you all for taking the time to educate yourselves about the modified event prior to registering, committing to it, and showing up with so much positive energy. I could recap the weather (manic), the performances (impressive) or the trail conditions (average to above average) – but you were all there and experienced it, in all of its awesomeness… Instead, I just want to say how grateful I am for all of you – what a special group of humans.
Some words from our runners:
"I just wanted to thank you one more time for putting the race on this weekend. I can't even put into words how much my soul needed to be out on the SHT. Even though I felt like it chewed me up and spit me out on Friday, I haven't felt that satisfied in far too long. You, your family, and your volunteers are amazing! Thank you so so much!"
"I just want to say thank you so very very much for all the hours of work and effort you and so many others put into putting on the race this past weekend! I cannot tell you how good it feels to be back in the ultrarunning community again. I feel so very thankful and so very fortunate to be part of such a welcoming community . Thank you again."
Stats & Results:
Combined 12.5K, 25K & 50K:
425 registered, 395 starters, 385 finishers, 10 DNFS.
12.5KM:
97 registered, 91 starters, 89 finishers, 2 DNFs
17MI Results HERE https://www.superiorspringtrailrace.com/12-5km-results/
25KM:
170 registered, 160 starters, 159 finishers, 1 DNF
34MI Results HERE https://www.superiorspringtrailrace.com/25km-results/
50KM:
158 registered, 144 starters, 137 finishers, 7 DNFs
34MI Results HERE https://www.superiorspringtrailrace.com/50km-results/
Photos:
As always our volunteer photographers try to get photos of as many runners as possible – I am guessing we have a lot of you, but not all. Images are for personal use by race participants. If you'd like to use an image for a commercial purpose (e.g. publish in a magazine, use to promote a product etc.), please contact photographers for permission and terms of use. https://www.superiorspringtrailrace.com/photos/
Superior Hiking Trail Association:
The Superior Trail Races (both Spring and Fall) take place on the Superior Hiking Trail. The Superior Hiking Trail Association is the non-profit organization that builds and maintains the Superior Hiking Trail. The Superior Trail Races / Rocksteady Running make an annual donation to the trail association, organize volunteer efforts, promote membership and generally advocate for the trail. If you are not already a Superior Hiking Trail Association member, we encourage you to join, you can do so HERE https://superiorhiking.org/joisuperior/ – if you are already a member and would like to make an additional donation, you can do so HERE https://superiorhiking.org/donatesuperior/ – we thank you for your support of the Superior Hiking Trail!
Housekeeping:
T-shirts and medals just went into production and we will be mailing them out once we take delivery of them – we hope to have them out to you in a couple of weeks.
I liked the 2020 t-shirt design so much that I did it in a different color scheme for 2021 – you can check it out HERE https://www.superiorspringtrailrace.com/2021-race-shirts/
The finishers Medals will be different in 2021, and quite possibly going forward. This is for a number of reasons. One is so that we can more easily ship them when needed. Secondly, my friend and former race director Larry and his wife Colleen spent years going into the woods, cutting trees, hauling them home, drying them, cutting them into discs with a miter saw, drying the discs more, screen-printing the fronts, then the backs, then drilling a hole, tying twine, separating into bins and getting them to me… four times a year, for our four major events, 1000's of medals per year – it's time we give them a little bit of a break. This new design is still printed on wood, it is clean and simple, and they are still made by friends of ours (my mother and I sat down and tied all of the lanyards just a couple of nights ago, thanks Mom), anyways, I really like it – I think you will too. I have removed the distances and year from the medal but have left a large space on the back if you want to write in a note with a fine-tipped sharpie; the year, the distance you ran, your time, or anything else, a memory perhaps. No more waste, no more throwing out or burning dated medals due to DNS or DNFs, etc. You can check them out HERE https://www.superiorspringtrailrace.com/new-superiors-finishers-medals-2021-and-beyond/
In Closing:
Again, I cannot thank you all enough for your participation, support and friendship. I am looking forward to an awesome year ahead. We will be getting some info out and registration open for the Afton Trail Run very soon – following that will be the same for the Superior Fall Trail Race and hopefully we can figure out an Endless Summer Trail Run Series race or two. If you have not already, you can sign up for the RSR mailing list HERE https://www.superiorspringtrailrace.com/join-our-mailing-list/ to stay apprised of the latest.
As always, should you have any questions or need anything, please reach out.
Thank You,
John Storkamp
Race Director
racedirector@superiortrailrace.com