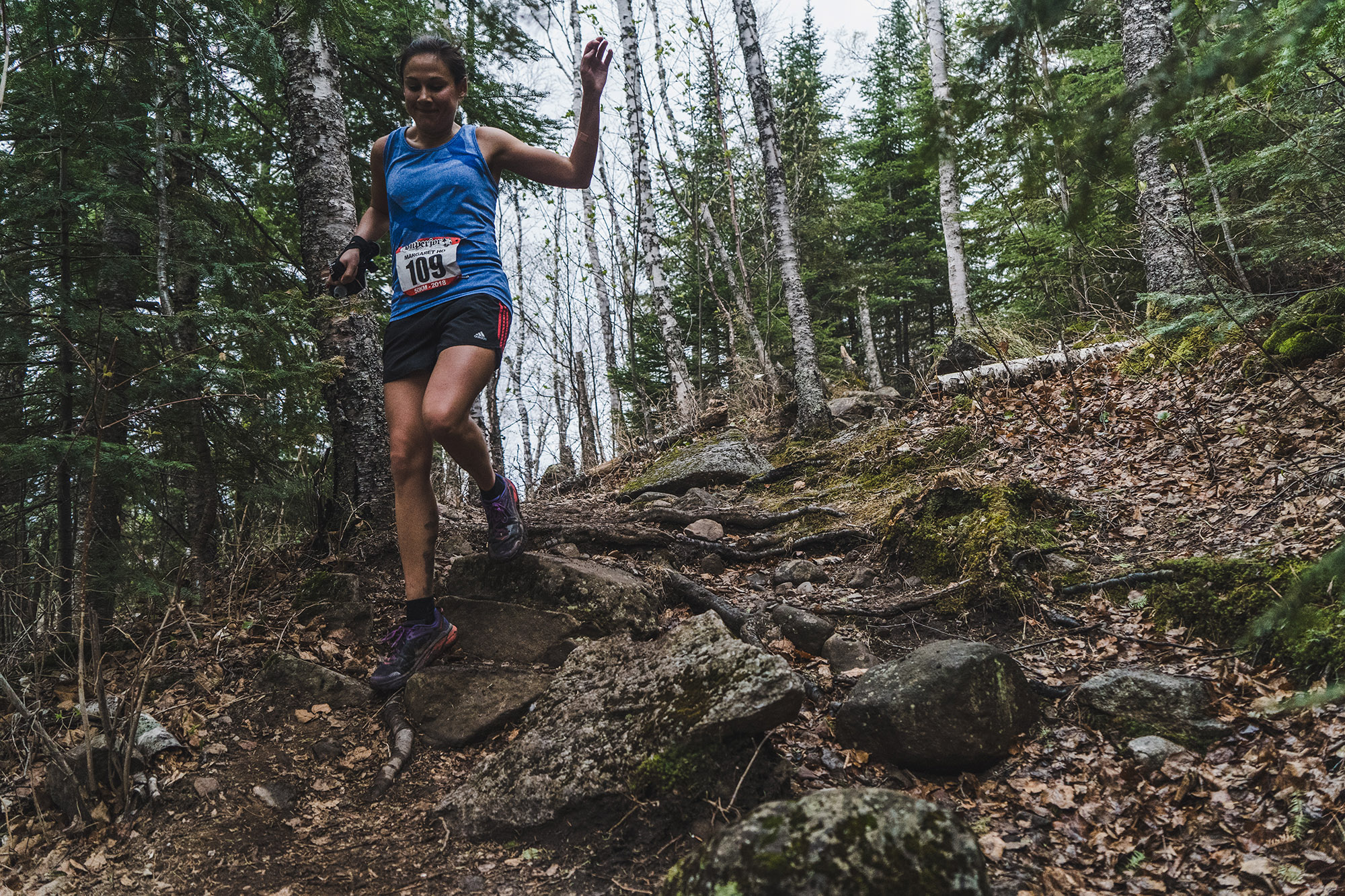 Photo Credit: Fresh Tracks Media
Welcome runners to the Superior Spring Trail Race 12.5KM, 25KM and 50KM – Saturday May 18th, 2019!
We are excited to be hosting another talented field of runners hailing from 21 states and four Canadian provinces all coming to experience the North Shore, Lake Superior and the one and only Superior Hiking Trail!
This email is going to be short and sweet and will generally lack specifics since all of the specifics can be found on our website HERE https://www.superiorspringtrailrace.com – PLEASE, PLEASE, PLEASE take the time to read it and then read through the website and at a minimum read over / see the following links. There is only one kind of runner we do not care for, those that choose to not read the info on our website and in turn come unprepared for the event. If you are no longer planning to run this years race, you DO NOT need to email us.
50KM Info: https://www.superiorspringtrailrace.com/50km-info/
25KM Info: https://www.superiorspringtrailrace.com/25km-info/
12.5KM Info: https://www.superiorspringtrailrace.com/12-5km-info/
Maps: https://www.superiorspringtrailrace.com/maps-and-data/
Bib Number Assignments: https://www.superiorspringtrailrace.com/2019-bib-assignments/
* Please know your race number at packet pickup – it will help expedite the pickup process. Even if you check-in on Friday you will need to re-check on Saturday so we know who is starting the race. 50KM runners, use your assigned race number to mark your drop bags – be sure to include your first name, last name, race number and aid station location for the bag. Note, there are no drop bags for the 25KM or 12.5KM. Also note, there is only one aid station for the 25KM and no aid stations for the 12.5K so be prepared to carry what you need.
Some Additional Updates, Notes & Reminders:
Trail Conditions:
After what was a wonderful and incredibly snowy Winter (yes, we do love and embrace Winter around here), the North Shore was melting, draining and drying exceedingly well. The trails were in great shape for late April. But then, on trend for 2019 the North Shore saw a foot of snow on April 29 with another 6 to 10 inches (depending where you were on the shore) on May 9. The snow is rapidly melting – my best guess is that there will only be a little patchy snow and ice on North / shaded slopes come race day. Upland trails are drying out encouragingly well. With all of the melt and runoff the low areas / wetlands are very wet and muddy. Your feet will get wet and muddy. Run only on the trail. Do not get off of the trail in an attempt to avoid water or mud – instead run right through it as we do not want to widen the trail and damage the trail corridor. Dozens of your fellow trail runners / trail people worked the last few weekends clearing the trails of downed trees after Winter. This year was not quite as productive as most years since a lot of this trail clearing got done in the snow. While we were able to get get all of the major downed trees cleared, some of the additional brushing was not possible, so in places the trails could feel a little more closed in with brush.
Spectator Aid Station Access:
Spectators are welcome at the start of the 25K and 50K races at Caribou Highlands on Ski Hill Road and to visit the Oberg and Sawbill aid stations but MAY NOT park in the trailhead parking lots – signage and volunteers will direct you where to safely park (on one side of the road only) at both locations – please obey all signage and volunteers requests. The trailhead parking lots are to be left open for non-race-related parking (day hikers, backpackers etc.) – if you have friends or family coming to see you please have them review THIS page https://www.superiorspringtrailrace.com/spectator-info/ and print the Spectator Guide that is linked on this page. Note that there are no spectators allowed at the start of the 12.5K and there are no spectating opportunities on the 12.5K course as there are no aid stations.
Clothing and Hydration Common Sense:
Hydration: Take a look at the distances between aid stations and plan accordingly, most people need at least one water bottle, many need two and many carry hydration vests or packs, very few people can or will run this race without carrying water and we strongly discourage it. 12.5K runners, as you know from reading the information about the race, due to the remote nature of the race course there is no aid station so plan accordingly – you will go 7.75 miles / the entire race on your own aid, water etc., this is very similar to the 25K in that they go 7.75 miles before they hit their aid station, then go another 7.75 without aid to the finish.
Clothing: 50K runners will be out there for a long time and so will some of the 25K runners and even some of the 12.5K runners if they are doing a lot of walking – it is possible to have cold temps and / or mixed with rain (or even snow) – consider carrying or having access to a light jacket or a garbage bag for warmth – these distances are not too short to get hypothermia in the event that we should get rain on a cold day!
Drop Bags (50KM Only):
Drop Bags do not come back to the finish until after the aid stations close, so 1.) Only put things in your drop bag that you are willing to not get back or 2.) Be prepared to wait until the very end of the race for your drop bag to get back to the Start / Finish area. 3.) Drop bags that are not picked up will be donated to charity.
12.5KM Race Distance Specific Info / Reminders:
The busses will depart from Caribou Highlands at 8:15AM. You will be at the start for about 20 minutes prior to the race start – we will have a place for you to send your warm-ups back to the finish area. There is no water at the start (so fill up before you get on the bus) but their will be toilets for last minute bathroom breaks. Reminder, there is no aid on the course – you will run the entire 7.75 miles without aid, so carry water and any other provisions or clothing that you need. Reminder, this is remote backcountry running – there is no place to bail out / drop from this race – if due to injury or lack of training you have questions about your ability to finish the race, you may want to sit this one out. You are all in for a treat, this is a stunning course!
Merch (Bring Cash or Check):
We will have sweatshirts, t-shirts, hats, buffs, posters etc. for sale but take cash or check only (no credit cards) and there is no ATM on site, so if you want anything be sure to bring cash or check! You can preview some of the offerings and pricing HERE https://photos.app.goo.gl/nTg4vtcrMBqMTivi8
Race Results:
Live results will be available via THIS LINK https://results.chronotrack.com/event/results/event/event-49443 within a few minutes of crossing the finish line!
Rocksteady Running / Superior App:
Check out the Rocksteady Running App for IOS (hopefully will have an Android version at some point as well) that volunteer and good friend Reid P. created for us! There are some neat Superior Spring Trail Race features within the app! https://itunes.apple.com/app/id1337800781
Entertainment / Lead-up:
We post quite a few entertaining things to our Facebook page HERE https://www.facebook.com/Superior-Spring-Trail-Races-282301375300697/ in the month leading up to, during and after the race – go to our Facebook page and like / follow. A race preview has been written and can be found HERE https://www.superiorspringtrailrace.com/superior-spring-trail-race-2019-race-preview-by-john-storkamp/
Post Race Chili:
We will have complimentary meat and vegetarian chili with corn-bread, fixings and cookies for you when you finish! We have had a few issues in the past where there was not enough food left for registered runners / finishers because family and friends were helping themselves and early finishers were having more than one helping. Please note that we plan for enough chili for registered runners to have one helping. If you or your friends / family need something additional there will be a cookout on the patio with reasonable prices and there is a restaurant on the property. Thank you!
PLEASE READ THE INFO ON OUR WEBSITE:
Our job is to put on a safe / well organized race for you – your job before the race is to read the website and know what is happening when and where – after that your job is "simple"… show up, run and have a great time!
On behalf of our 160 wonderful volunteers and all of our outstanding sponsors, we are looking forward to seeing everyone at the 2019 Superior Spring Trail Race!
Thank You,
John Storkamp
Race Director
racedirector@superiortrailrace.com