Thank you for running the Superior "Spring" Trail Race
25KM & 50KM | 
May 18th, 2013 – Lutsen, Minnesota

Do not reply to this email, please email questions
HERE
You can visit the official Superior Spring Trail Race website
HERE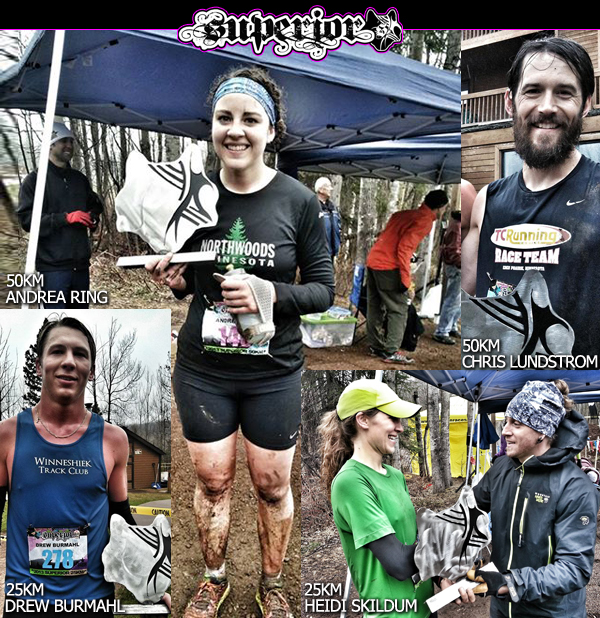 SUPERIOR Trail & Ultra Runners!

Another Superior "Spring" Trail Race 25KM and 50KM is in the books, it seems to have come and gone way too fast this year!  Two weeks prior to the race, parts for the trail were still holding up to 3 feet of snow – come race day 99.9% of the snow was gone and the trail was in remarkably good condition at race start.  Our crew got things ready on Friday and on Saturday 75 volunteers helped nearly 450 runners complete the race!  Race day came with temperatures hovering around 45 degrees and with the frost coming out of the ground so late this year, the trail was still soft, getting fairly muddy late in the race with isolated rain showers during, adding to the mud.    Both races got started without a hitch, 450+ stories unfolded, too rich in depth to expand on in this email (look for a full 50KM race report in an upcoming edition of Ultrarunning Magazine), below are results, some stats from both races, links to photos, a shout out to volunteers, sponsors and the Superior Hiking Trail Association and some info about some upcoming races you might be interested in.  Thank you all for attending and being part of an awesome weekend! Perhaps we will see you at the "Fall Races" (100MI, 50MI, 26.2MI) as a runner or maybe even as a volunteer!



Sincerely,John Storkamp
Race Director
And the Entire Superior Trail Race TEAM

RACE RESULTS:


Below are the links to the Superior Spring Trail Race 2013, 25KM and 50KM results along with the results from the USATF Minnesota Association Ultramarathon Championship race.  It is always possible that a chip may not have read or someone could have lost their chip on the trail – thus, someone could be missing from the results, if that is the case we will have them in one of three manual backups that we run and we will revise results as needed, with final results available within a week or so of the race. Should you have any questions regarding results please contact us.

RACE STATS:


50KM
Starters: 163
DNFs: 5
Finishers: 158
Finishers Rate: 97%
Mens Overall Winner: Chris Lundstrom, Minneapolis, MN
Womens Overall Winner: Andrea Ring, Duluth, MN

25KM
Starters: 290
DNFs: 3
Finishers: 287
Finishers Rate: 99%
Mens Overall Winner: Drew Burmahl, Brandon, IA
Womens Overall Winner: Heidi Skildum, Decorah, IA 

RACE PHOTOS: 


We are blessed to have a wonderful group of very talented volunteer photographers that give freely of their time and resources at the Superior Trail Race, below are links to their pictures for you to enjoy!

RACE REPORTS: 
Do you have a race report from your blog that you would like to share with others? If so, please drop us a line and we will put it up on our website HERE.

VOLUNTEERS / SPONSORS / SHTA:


VOLUNTEERS:
Volunteers are the lifeblood of the Superior Trail Race, we could not do it without them.  Feel free to read the thank you letter we sent out to our volunteers HERE and feel free to hop on Facebook and drop them a line of thanks!  Were you impressed by our volunteers?  We were!  Interested in giving it a try?  Come work with us (ok, its actually more like play) – you can learn more about volunteering HERE.

SPONSORS:
Sponsors support our event financially, with products / swag, nutrition products, coffee, mapping , lodging and services and many come  to the race and are hands on as volunteers and some even run – you can learn more about our sponsors HERE.

SUPERIOR HIKING TRAIL ASSOCIATION: 
We are fortunate to be able to hold our race on the Superior Hiking Trail – one of the most magnificent long-distance hiking trails in the United States and dare we say the world.  Each year we make a significant financial donation to the Superior Hiking Trail Association – in addition to this we feel as race organizers, volunteers and runners it is our responsibility to be members on an individual basis as well – you should consider doing the same and think about volunteering sometime during the year to help with trail maintenance.  You can learn more about the Superior Hiking Trail Association and becoming a member HERE.
The Superior 'Spring' Trail Race is a Rocksteady Running Event


Rocksteady Running is operated by ultrarunners for ultrarunners 


You can learn more about the Rocksteady Running philosophy HERE.


Run Wild | Be Free | Rocksteady