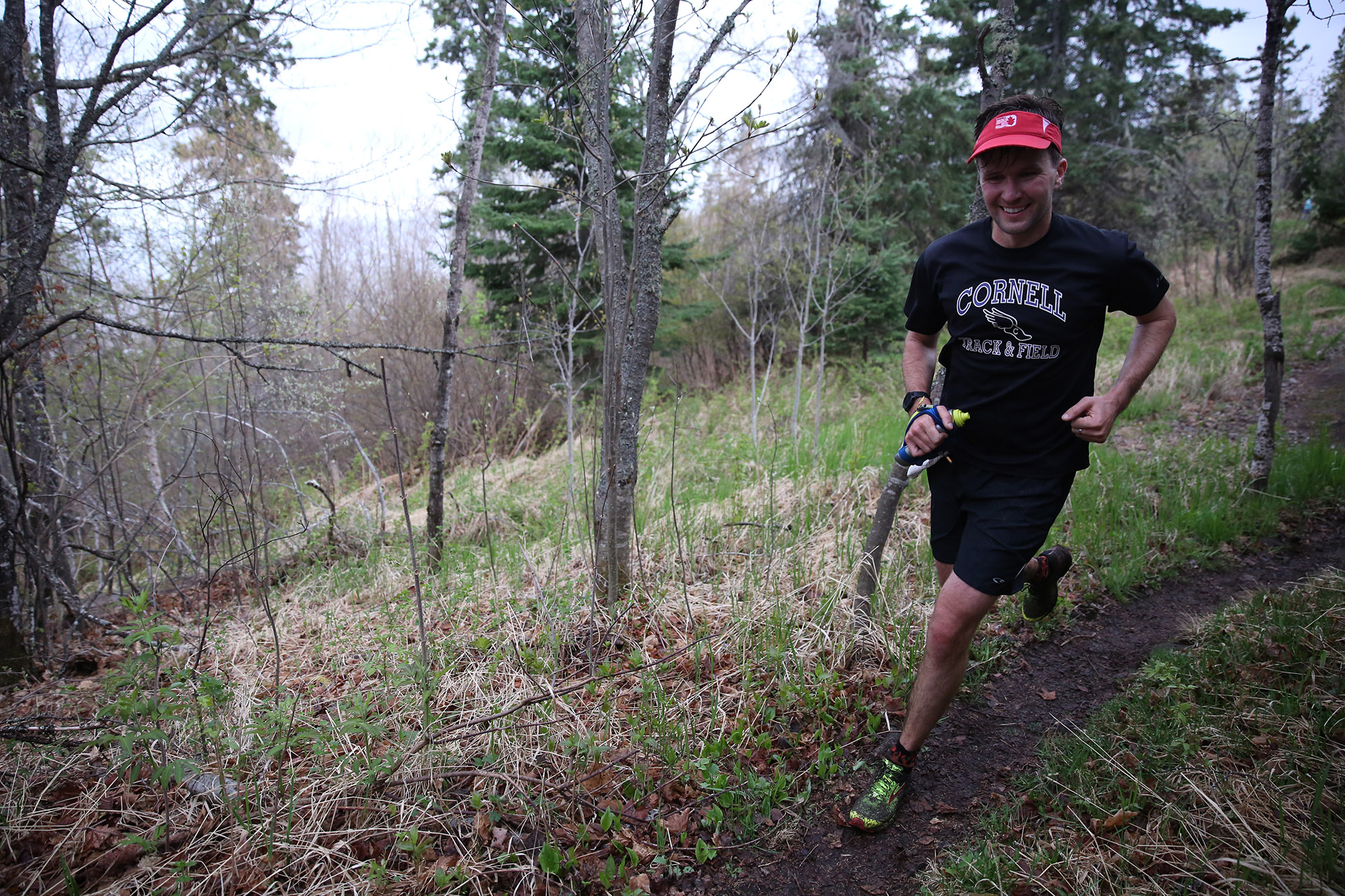 An Interview with 2018 Superior 25KM Men's Winner Chase Nowak (CN) – Interview conducted by Kevin Langton (KL)
---
KL: Chase, congrats on your win. What were your plans or goals for the race and how did the race play out for you?
CN: My goal was to have an honest race. This one was a tough effort. This was my first race since a DNF at Bandera 100k last year. After that race, I took a year to mentally and physically recover from a race-packed 2016. I was somewhat nervous coming into Spring Superior with it being the first for over 16 months and dealing with injuries and illness this spring. I went out based on feel and heart rate because I didn't know what I had to give Superior this year. I was shuffled into 3rd place after 3 miles and the leaders were out of sight in the dense woods. I held that position until after the turn around. I felt pretty exhausted right before the turnaround and felt discouraged because of it. When I saw that I was about a minute behind the leader at the half way point, the adrenaline was rushing and I kicked it into gear since I knew how my aerobic fitness could handle the latter half of the race given my average heart rate at the time. I passed the leader, Luke Nelson, as we were descending Mystery Mountain after a long chase through the open forest and switchbacks going up to the peak. I have to admit, the lead pack beat me on the uphills, but I leaned on my high-school Colorado Springs experience to bomb downhill. This was the first race I negative split and I am really happy I accomplished that during this race.
KL: What best prepared you for such a race?
CN: Working full time in downtown Minneapolis, I find it tough to run at home before and after work. I kill two birds with one stone with run commuting. It takes planning and creativity to do this, but it pays off from a time management perspective. I do combine this with a bus ride into work or after work most of the time since the route from my home is 13 miles. I challenge anyone that struggles with running and having a full time job to consider this. I've even run-commuted to renew my drivers' license (while changing in dress clothes in the bathroom)!
KL: What's something non-running that helped you at Superior?
CN: My friends and family. My wife grounds me and provides constant encouragement. My running family, including but not inclusive of Adam Doe and Ben Jacobs, talk race strategy and provide constant motivation through their attitudes and accomplishments, running or other. I lean on them more than they probably know and truly love them.
KL: Bonus question: Please make your own question (and answer) that reveals something you think we should know about.
CN: Everyone has hurdles. The hurdles may suck, but it is about how you overcome them. I have reoccurring pericarditis, which is a heart condition where the lining around my heart gets inflamed. It knocks me off my feet when I have a flare-up. The pain gets so bad, it is hard to walk or lay down. The flare-ups have happened before critical races where I've put my heart and soul into the training (DIII Cross Country Regionals Sr. year in college and Grandma's Marathon). However, I don't let this condition overcome my long term goals and passions even though I have to withdraw from races, adjust my training, and start from square one more than I'm ever wanting to do. I find inspiration through others fighting their own battles. One common theme I observe is that these individuals focus on the long run rather than the short sprint.
If you find that you're struggling with training due to a hurdle, keep your long-term goals in mind. Get creative to solve a time management problem, seek help from friends or professionals when you need it, and keep your priorities in mind as you think 5 year, 10 years, 50 years+ down the road. After all, we're all here for the long run, especially since it's on the trail.
KL: Chase, thanks again and congrats on another amazing race.